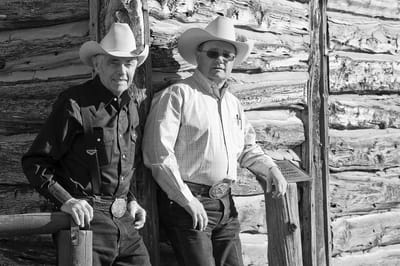 ALVIN NELSON
While Alvin Nelson of Grassy Butte, N.D., started his career as a three-event roughstock cowboy, he excelled at saddle bronc riding as a professional. Born on April 5, 1934, in Mobridge, S.D., Nelson turned pro in 1953. During his 13-year career, he won a world title, claimed two aggregate crowns at the Wrangler National Finals Rodeo and qualified for the Wrangler NFR five times. He earned the 1957 world saddle bronc riding title, ending a string of six consecutive titles won by fellow Hall of Famers Casey Tibbs and Deb Copenhaver. Nelson went on to claim the aggregate title at the Wrangler NFR in 1961-62. He also was the all-around champion of the 1961 Wrangler NFR. Nelson is also a member of the National Cowboy Hall of Fame and North and South Dakota Cowboy Halls of Fame.
World championships: 1 (1957)
Born: April 5, 1934 in Mobridge, South Dakota
Died: December 23, 2014 in Rochester, Minnesota
BRAD GJERMUNDSON
Brad Gjermundson's ability quickly became obvious. He was named PRCA saddle bronc riding Rookie of the Year in 1980. The next year he won the world championship and never looked back. "After I won my first world championship, I continued to set that as my goal every year," said Gjermundson, who was born March 25, 1959, in Richardson, N.D. He qualified for the NFR eight straight years during the 1980s. Then, in 1994, after a five-year absence, he went back to the premier event and pocketed $81,000, the second highest total ever won by a cowboy in a single event at the NFR up to that time. Gjermundson thinks his quiet demeanor may have fooled peers into believing he lacked competitive fire. His record tells a different story. "I'm going to go for a win every time I nod my head at every rodeo I enter. So far, I guess I'm doing all right," he said.
World Championships: 4 (1981, 1983-85)
Born: March 25, 1959 in Richardton, North Dakota